Through the Manager Service Portal, Landlords and Property Managers can alert tenants to upcoming visits
The Landlord Manager Service Portal is built to maximize communication with the landlord's tenants and Alcove. Through the Service Portal, you can alert tenants to an upcoming visit for repairs or maintenance. Additionally, you can book services for your property if you do not already have a trusted vendor or professional. For information on scheduling service at your property using an Alcove-approved vendor, see this article. To schedule a service at your property that either you or your own vendor will be providing, navigate to your Manager Portal and select "Manage Listings". Once you have selected the desired property, click on the "Go to Service Portal" hyperlink on the right-hand side of the page:

The next page will show all scheduled services at the property (if there are upcoming services). To schedule a new service, select "Schedule a New Service":

On the next screen, you will be prompted to either book a service through an Alcove-approved vendor, or provide your own service. When providing your own service, the details of the service are entered on the next screen: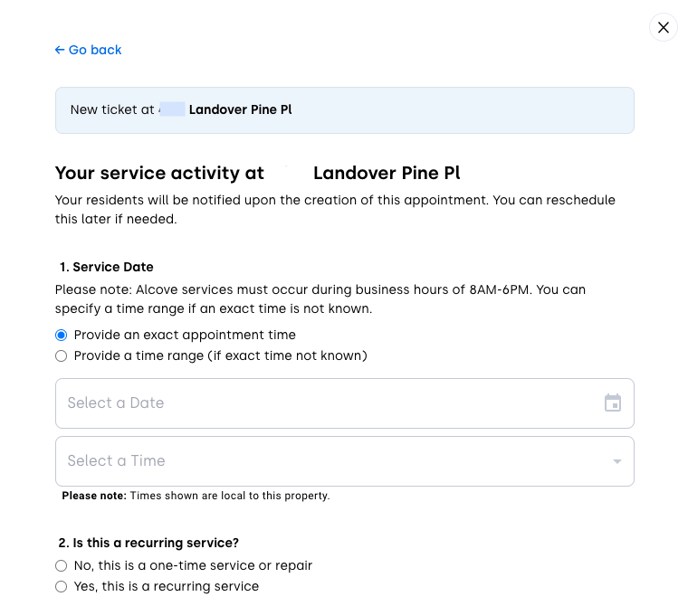 If you know the exact time of the service, input the exact time and the date. If your vendor has given you a time range, the next option is chosen. If the service is a once-off, select the "one-time service" option. If the service is recurring (e.g. quarterly pest control) then select the "recurring service" option.
Next, enter the details of the service. This includes the type of service (select from the dropdown menu), who is providing the service (LL/PM or their vendor), a brief description of the service to be performed, the affected rooms/areas of the property, and the tenant's presence (if required):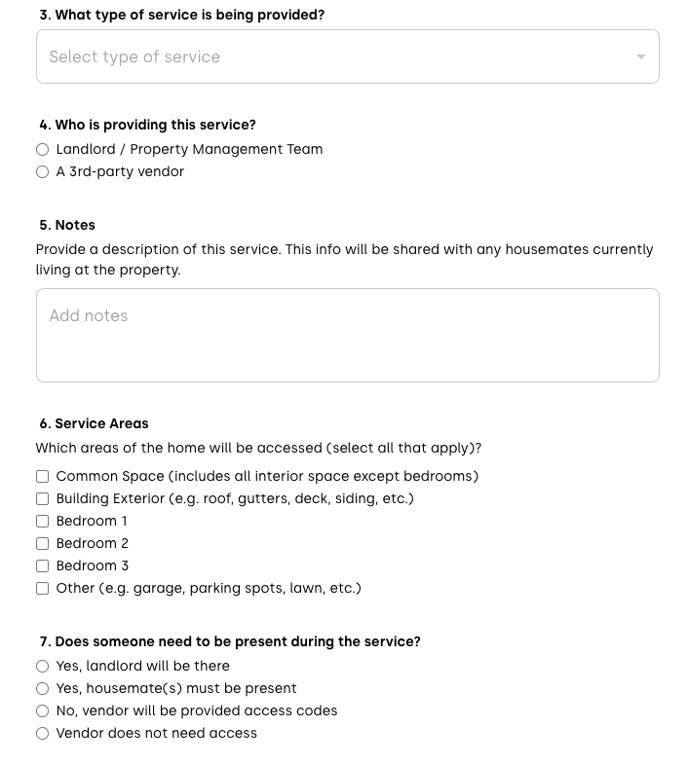 Finally, review the LL/PM community expectations for services at your property. Once you have reviewed and confirmed your understanding select the "I have read and understand the above" toggle button. You will then be able to submit the scheduled service and housemates will be notified: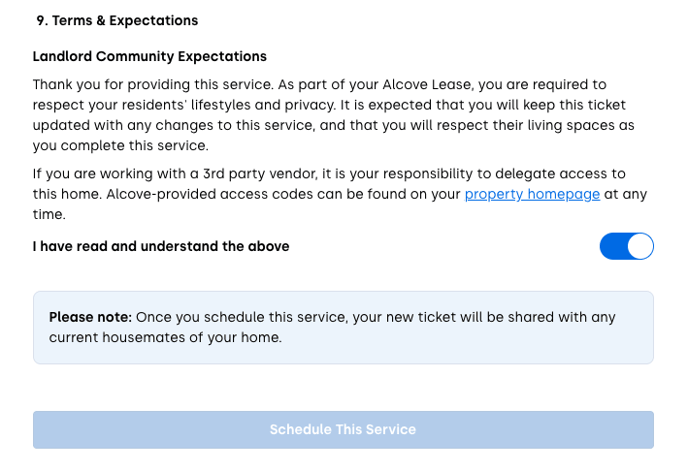 The service is now scheduled and will appear under the service portal section of your Manager Portal.
Rescheduling Service appointment:
Need to reschedule your or your vendor's service? Simply select the ticket from your service portal and click "Reschedule or Cancel" and enter the new time and date along with a message to explain the reason for rescheduling: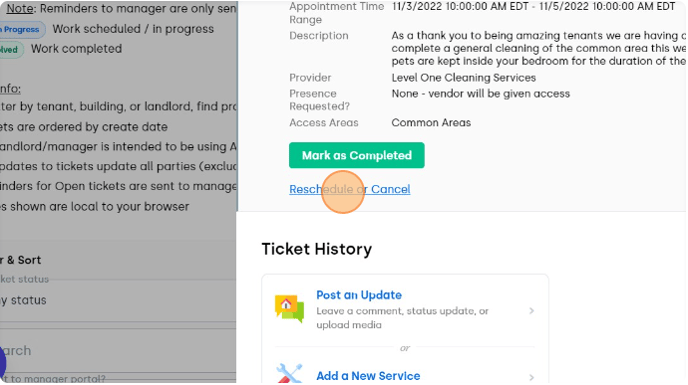 Once the service has been completed, click "Mark as Completed" to close the service ticket.
Service Scheduling Issues and Troubleshooting:
Having an issue scheduling a service at your property? Reach out to the Alcove Partner team at partner@alcoverooms.com for assistance.