What is Alcove's application process? How is the landlord involved in the selection process?
Alcove sources the most qualified renters you could find. Our selection process is competitive and requires the owner or property manager's approval for any bedroom leases signed on a property.

When an applicant applies to your property, they flow through the Alcove tenant approval process. The progress of these steps is visible on your Alcove Manager Portal, under the 'Applicant' section: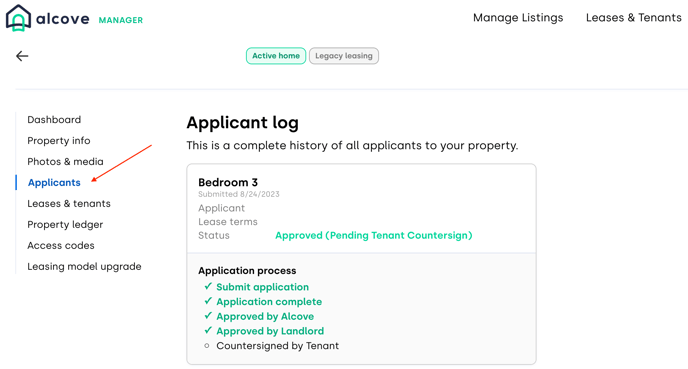 Each application steps are further detailed below:
1. Submit Application: At the first stage, prospective tenants initiate the process by submitting an application for a specific bedroom within your property. This marks the beginning of their journey towards co-living.

2. Application Complete: Once the applicant submits their application, they provide all the necessary information required to create a comprehensive applicant profile. This includes consenting to background, income, and credit history screenings. Having a complete profile ensures that the evaluation process can proceed smoothly.

3. Approved by Alcove: At this stage, applicants who have successfully completed their full application undergo a thorough screening process. This entails background, income, and credit history checks. Applicants who pass the screening requirements are then shared and presented to the owner or manager for further review and a decision on approval or denial.

4. Approved by Landlord: Upon successful screening by Alcove, the application moves to the owner/manager's review. The owner or property manager assesses the applicant's compatibility with the property, current housemates, and makes the final decision to approve or deny the tenancy.

5. Countersigned by Tenant: If approved by the landlord, the applicant receives the lease agreement for the selected bedroom. The applicant has the ability to countersign their lease up until 48hrs prior to the lease start date. After reviewing the terms, the tenant formally agrees to the lease by countersigning it. While not all approved applicants may convert to a signed bedroom lease, the dedicated Alcove Sales team follows up with each individual applicant to answer any questions or concerns they may have.
These stages collectively form a transparent and structured tenant approval process that ensures both landlords and tenants can confidently engage in a mutually beneficial co-living experience.

Tenant Screening:
Roommate safety is incredibly important to our community - this is reflected in our comprehensive screening process. Perspective candidates complete their applications on our platform and all screening information is shared with owners & property managers before approval. All applicants are individually approved by the owner/property manager before they can countersign their bedroom lease and move-in. Owners & managers always have ultimate approval over which applicant can reside in their rental property.
TransUnion Rental Screening Solutions is our background check partner. All our roommates are screened with SmartCheck Premium, which is the most extensive rental check that is offered by TransUnion. This covers credit, criminal, evictions and income insights.
When reviewing a roommate application, each applicant screening report includes the following information to help you make an informed decision on whether to approve them:
Credit-based ResidentScore
- Get a clearer picture of your rental applicants' financial situation with a TransUnion ResidentScore.
Tenant Credit Reports
- Check the payment history of your applicants with a full TransUnion SmartMove credit report.
Criminal Background Check
- Millions of national and statewide criminal records, including public registries such as Most Wanted Databases and the National Sex Offender Public Registry.
Eviction History
- Tenant screening services from TransUnion SmartMove can provide over 24 million records from 49 states and Washington, DC.
Income Insights
- Know within minutes which applicants need additional income verification and which do not.
When an application is ready to be approved, owners & managers will receive an email and text notification that there is a new housemate application on your portal. For further information on Transunion screening process see the following resources provided by Transunion below:
- https://www.transunion.com/how-to-read-your-credit-report
- https://www.transunion.com/product/resident-score
Questions or concerns about the application or housemate screening process? Contact the Alcove Partner Support team for additional information.